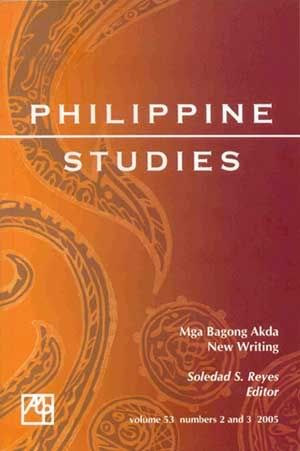 When: Jan. 27, 2006, Friday, 4:30 pm
Where: Natividad G. Fajardo Conference Room, De La Costa Hall,
Ateneo de Manila University, Loyola Heights, Quezon City
What: Launching of the new series of Philippine Studies and the Special Literary Issue 2005
Ten years ago, poet/critic Emmanuel Torres, after Philippine Studies came out with its literary issue, remarked on how featuring creative writing through the journal
"would be doing a morale-boosting service to writers who have kept faith in the literary text as we know it in an age increasingly hooked on video, pricey comic books, graphic novels, the Magic Eye mania, and the interactive games of computer technology. "
He further noted that "it is a service certainly welcome in a milieu where the media give far greater attention to the visual and performance arts than to literature."

I am of a generation caught in such an age. Alright, the Magic Eye mania is passe -- I have taken my share of near cross-eyed stare sessions and all that, and I have drawn the line at interactive games, after realizing how I had spent so much time in completing two role-playing games (cherished experiences both, mind you) years ago, but as for video and graphic novels, I am completely in thrall. I don't see why these and literature can't go together. Imo, there IS a lot of good writing to be found in movies, tv and graphic novels if one knows where to look (no thanks to Pinoy soap operas though, bleh).
I have two poems in this Philippine Studies Literary Issue. One takes off from a favorite graphic novel, the other relates to technology and the question of making connections in a borderless world.
Philippine Studies is the oldest academic journal in the country. Aside from poems, the literary issue also features short stories and creative nonfiction pieces from the likes of Ramon Sunico, Krip Yuson, Ricardo de Ungria, Cristina Pantoja-Hidalgo, Gilda Cordero-Fernando, Gemino Abad, and many more. Published by the
Ateneo de Manila University Press
, the Philippine Studies Literary Issue 2005 is edited by Dr. Soledad S. Reyes and co-edited by Dr. Rofel G. Brion. In the introduction, Dr. Reyes notes that the 60 contributions collectively celebrate the act of writing against the odds and "offer a clear window to the world" of contemporary works with all the challenges and tensions attendant to the attempt to express or approximate experience, and to "locate the self in an increasingly globalized and complicated world."
Come one, come all, people. You are all invited!
[The literary issue as well as other Philippine Studies issues will be available at the launch venue, and the Ateneo Press bookshop afterwards (4265984, 4261238, 4266001 ext 4613, 4614).]