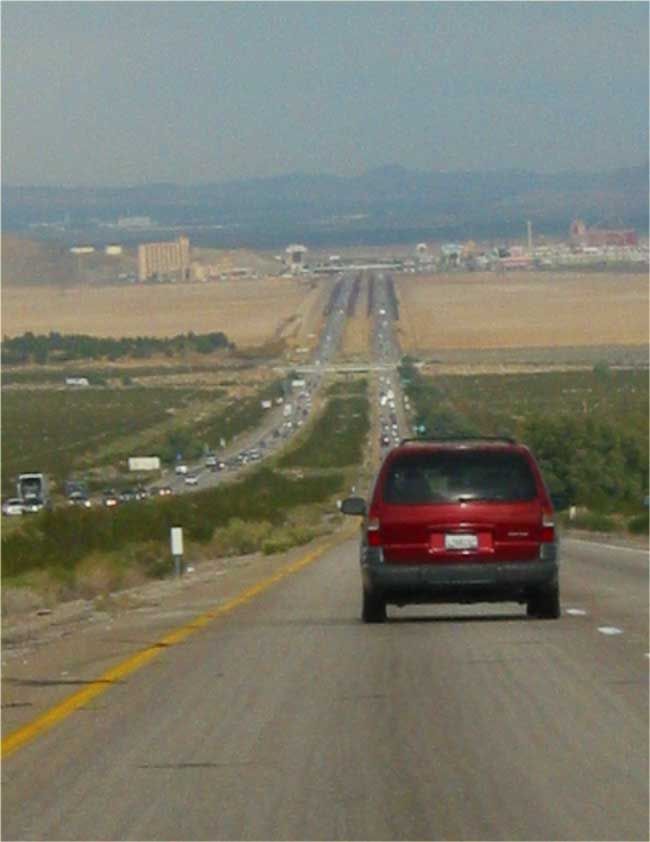 Far be it for me to say no to a trip anywhere, so when my cousins asked if I wanted to go with them to Las Vegas, hey ho never mind that I'm not a uhm casino aficionado
*ahem*
, the image of the Vegas Strip alone was enough of an inducement (maybe I have been watching too much CSI)! Obviously there would be lots and lots of lights, ah yesssusssusss I can practice with long exposures!
*rubs fingers together excitedly*
I counted on it being garish, loud, gaudy, ridiculously ostentatious and flabbergastingly fake. What I didn't count on was that I'd have such fun photographing the sights. And I didn't even get to see a fourth of The Strip, tsk tsk. But no matter, the 250-mile, 4.5 hour trip (that's one way) was worth it. I spent only a short time taking pictures (around 3 hours all in all in one night), the first hour with my aunt, poor unsuspecting dear who didn't know what she was getting into, and a couple of hours alone till midnight while my cousins were
making pindot
the machines at Harrah's.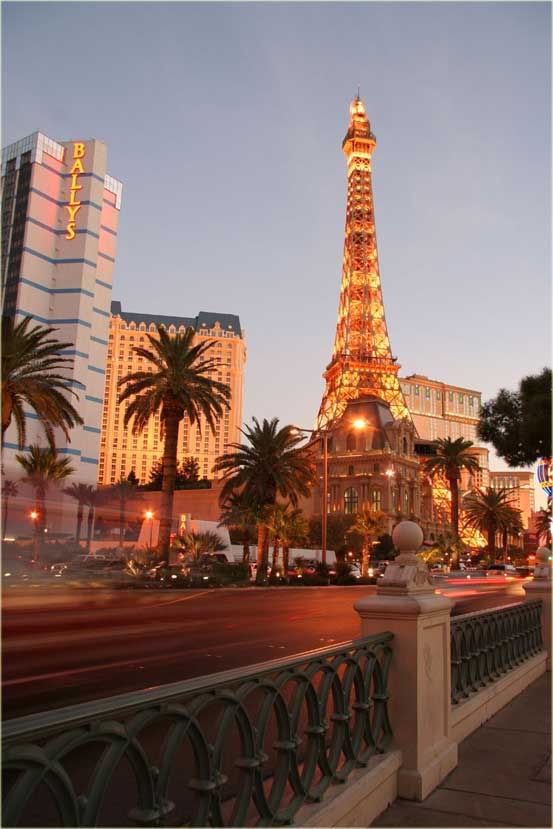 At sundown we crossed the walkway from Flamingo to Caesar's Palace, which I didn't explore much as I had already spotted The Paris Hotel and Bellagio and wanted to concentrate on these by the time it started to get dark. (Am not as great a fan of Roman architecture as I am of Gothic and Baroque in any case.) Early on as we approached The Strip (aka Las Vegas Boulevard), seeing it even from afar, I instantly had a liking for The Bellagio. Tacky it certainly was not. To my delight I found out that the fountain show would be starting in several minutes. So I clicked away happily as we waited (I think by this time it was starting to dawn on my aunt what exactly our stroll would entail ehehe).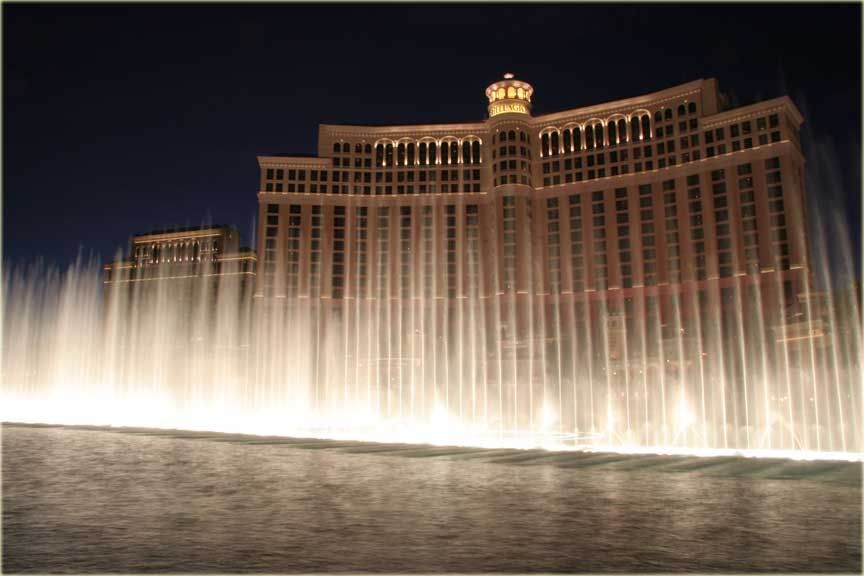 What with its 1,200 nozzles and 4,500 lights, the show did not fail to impress. I was so busy fiddling with my cameras, fitting the G2 into the tripod and then the Rebel XT, trying out different shutter speeds, shifting the camera vertically, then back horizontally, making sure no one would accidentally shove my equipment into the water in front of me, checking my bag from time to time, there was so much to mind that I forgot what the music was. I do remember that it was lovely music (classical most probably), and the water moved gracefully in tune with it. Fifteen minutes later (which means I spent that much time photographing The Paris Hotel across the street), as we walked towards the hotel on the left side, the fountains again began to dance, this time to the strains of Sarah Brightman and Andrea Bocelli singing
Con Te Partiro (Time to Say Goodbye)
, which I happen to like a lot.
*sigh*
It was beautiful. I don't like using the word but alright -- it was awesome.
(Go
here
to view clips of the show.)
I didn't get to take as many pics inside the Bellagio (spent some minutes window shopping at the art gallery
*grin*
), didn't even get to go to the Conservatory (I sometimes get an urge to kick myself for that but hey, it's not as if I didn't enjoy what else I saw – maybe next time) because we had to meet up with my cousins for dinner.
After dinner, I announced that I would take a walk alone, seeing as how my aunt was a tad tired from the ordeal earlier
*guilty grin*
. We spent some time waiting for the volcano at The Mirage, but it turned out to be so-so. Or maybe I was distracted, because I was raring to go and check out The Venetian (if I can't see the real Venice I might as well practice shooting replicas, right?). As it turned out, I spent all of two hours there, and I didn't even get to see everything (
*sigh*
so many photo opps, so little time).
I stood and took pics in front of the fake Doge's Palace for some time, then went up to take in a view of the surrounding buildings from the balcony. I made a nuisance of myself as I took a picture of my reflection on a glass window (it was too much of a bother to pick a random stranger I could maybe trust to take my picture, who knows huh?) -- people hesitated about walking in front of the camera
*giggle*
, wondering what on earth I found so interesting about a dark glass panel (I did overhear one bloke explaining to his friend what I was doing, though).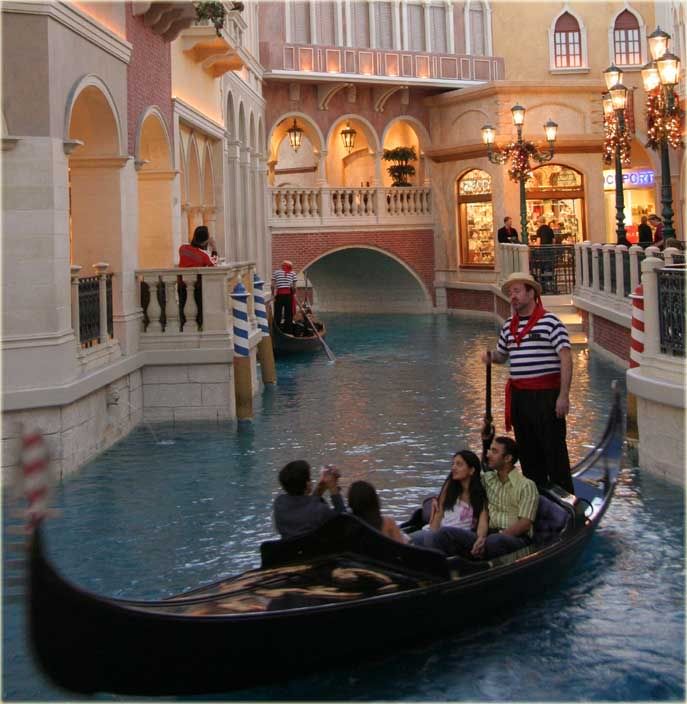 Having done that, and shivering a bit by this time (it was around 45, 50 degrees maybe), I entered the hotel, observing a long queue for the Tao nightclub, walked on a bit more, and hah! It was absolutely disorienting, coming in from the dark to find myself at a piazza under a fake cerulean blue sky! (I confess I did no research whatsoever before going, bad imogen, but hey, the shock was worth it. The sensation stayed with me long after.) As I closed my mouth (I think I gasped for a couple of seconds) and my eyes began to adjust to the brightness, I looked up and noticed the circular notches in the fake ceiling (notches? nodes? protuberations? whatever). Authentic-looking sky my foot, it felt as authentic as the advertisement-covered Campanile outside. Which does not mean I didn't enjoy it, mind. I walked on a bit more and saw what I had been looking for – the fake Grand Canal (more like Wee Canal), complete with gondolieri belting out
O Sole Mio
as they navigated the narrow canal. So I clicked away, made a couple of vidz, then sat down to soak in the artificial ambience, texting a few friends (I had a compulsion to thumb-type "fake" over and over LOL; and yes, there's no such word, I invented it just now alright). At the bench next to mine, a Pinoy was talking to his wife, speculating on what kind of people went to Vegas and why. Before I headed back to meet up with my cousins, I checked out the Canal Shoppes (a mixture of spiffy, garish and snooty as can be) which were not exactly all that Venetian
*cough*
.
I then met up with my companions at Harrah's and as we walked back to Flamingo where we had parked, I spotted a couple slumped by the sidewalk, sleeping. The woman was leaning toward her male companion. Both were rather unkempt. Next to them was a recently-emptied packet of Doritos and a large soda tumbler. If I were keen on people photography I would have snapped one, but I'm not and I don't much like recording images of misery. Did they come to Vegas with some money, expectant and excited, did they hit the casinos, win some, lose a lot, did they then have nothing left to pay for a hotel room and a decent meal? Were they drunk, desperate, doomed to keep trying to get back some cash, maybe just enough to make a sizable bet, win an amount significant enough to bring back a bit of hope of better days? Hope comes at a high price in Las Vegas once you start to lose it. Isn't that what it sells, whether it be in the form of slot machines, baccarat and poker tables, roulettes, pounds of flesh and mounds of silicon, dressed in fancy lights and displays, dazzling advertisements and enticements screaming at you as soon as you cross the stateline? Just then I remembered how I had not had a chance to do the slots.
We spent the morning of the next day shopping at the outlets (found a pair of waterproof hiking boots yayy) and lunching (buffet for $7) at a Chinese restaurant. Afterwards, whereas cousin C and her family headed back to California, cousin L, Auntie C and I braved through the afternoon Strip traffic to get to the Las Vegas Hilton. I then took a last bid at shooting from the windshield (I think maybe one fourth of all my images were done this way, LOL). So it was only then that I got to gawk at the horrid MGM lion (didn't get to see much of the Luxor as traffic was faster at that end), Lady Liberty flanked by a roller coaster, the colorful Excalibur castle, and the delightful Gameworks façade. Now as to why we were headed towards the Hilton, well that's another story for another post
* cough* Star Trek* cough*
;-)
So that's the story, lots more pics are at my
filphoto Vegas online album
. Check them out and keep clicking on `em as I uploaded large sized images, the better to inspect, examine, or critique. :-)