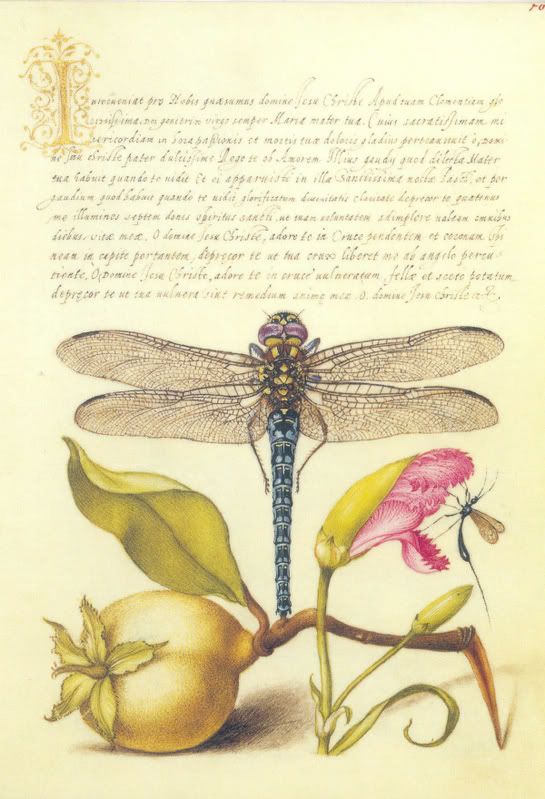 Dragonfly, Pear, Carnation and Insect (detail)

Mira calligraphiae monumenta
(Model book of calligraphy);
Vienna, 1561-62 and ca. 1591-96
Inscribed by Georg Bocskay and illuminated by Joris Hoefnagel
16.6 x 12.4 cm (6 9/16 x 4 7/8 in.)

[Click image to view larger version.]
This is from a very beautiful postcard book I got from The J. Paul Getty Museum,
Picturing the Natural World
. The back cover notes that: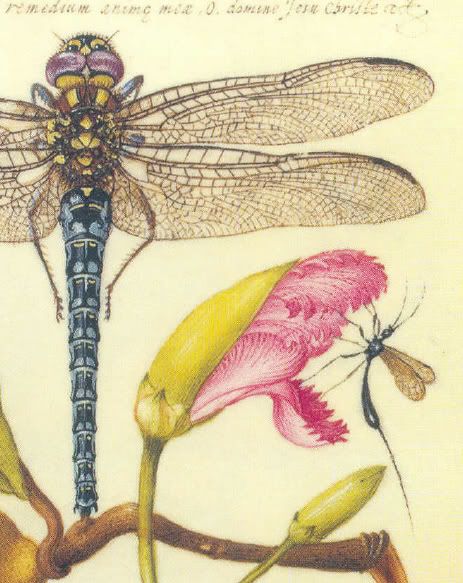 "In 1561 and 1562 Georg Bocskay, the Croatian-born court secretary of the Holy Roman Emperor Ferdinand I in Vienna, created the Model Book of Calligraphy to demonstrate his unrivaled technical mastery of elaborate and inventive writing styles. He arranged the calligraphy cleverly, giving each page of the book an independent beauty. About thirty years later Joris Hoefnagel, a court artist of Rudolf II, Ferdinand's grandson, was asked to illuminate the manuscript. He added captivating, carefully composed illustrations of flora and fauna to nearly every page and contributed a new section of intricate designs that provide instruction in the art of constructing the letters of the alphabet. The result is one of the most extraordinary collaborations between scrive and painter in the history of manuscript illumination."
Take note that each page from the book was only a few inches wide (check out the measurement above). Hoefnagel illuminated Bocskay's manuscript (whom he had never met, by the way) in miniature, with gold, silver and vellum. The level of detail (as seen in the image above) is astounding! For more on illuminated manuscripts, go
here
.
For more commentary on this art piece, check out
the Getty Museum website here
.