So here's the thing. I think I'm being punished for years and years of snarking on various shows on the tube. It's pretty funny because now I'm hooked on American Idol.
*blush*
In past seasons I managed to catch a few episodes, usually sometime towards the end (I did see Fantasia's seminal
Summertime
performance, and I did take notice of Bo Bice), but I never had the urge to watch it regularly. I even missed the hullabaloo surrounding William Hung. This season though has got me hooked because underneath all this mountain of cheese, there is a gem. And his name is Elliott Yamin. (Right, now how cheesy is that? I can't believe I just wrote that. Anyway…)
Fellow snarkies and skeptics, bear with me please, go on reading. Forget that this is about American Idol for a moment if you have to.
I am quite capable of writing pages upon pages about what makes Elliott Yamin the best contestant of this season. I can quote music lovers and professionals from the music industry – vocalists, songwriters, music producers, DJs, etc. – but I won't. Instead I ask you to listen to any or preferably all of his performances through the links below. Just that. His voice is incredibly soulful and unique. It has an interesting texture: smooth and velvety but with hints of huskiness. How else to describe it? Let's see, it's like... well, rich creamy chocolate ice cream with soft marshmallows, but also with yummy brownie bits and choco chips in it, `ya know? And as if that weren't enough, he has great skills (listen to
Moody's Mood for Love
in particular). The key points to take note of: tone, pitch, phrasing, breath control. (Ask the music experts though, because I'm not that musical myself.) Mind you, he hasn't had any formal training.
These are arranged in order of my preference (very hard for me to rank them since I have a lot of favorites). Links lead to a page where you can listen to mp3s:
Moody's Mood for Love (Top 20)
Somebody to Love (Queen night)
Teach Me Tonight (Songs from the `50s night)
It Had to be You (Standards night)
If You Really Love Me (Top 24)
I Don't Want to Be (Songs from the 21st Century night)
Heaven (Top 16)
If Tomorrow Never Comes (Country night)
Knocks Me Off My Feet (Stevie Wonder night)

I should note that I was surprised to find how fascinating the show is, not only in terms of what we see on the tube, but beyond it. There's a lot of interesting psychology going on beyond the singing. Simon Cowell alone, that brilliant manipulator, is a marvel. And apart from him, it's such fun to speculate about the various aspects of the show: voting dynamics, fanbase phenomena, the concept of popularity, etc.. Conspiracy theories abound about a myriad of things: who the TCOs (TCO = the chosen one) are, how important placement is (i.e., what number a contestant is in the line-up for a performance night), who is vulnerable to getting the boot next, and so on. Make no mistake though, this show has not made me a believer in "reality shows". The way I see it, AI is a very clever combination of producers' machinations, reality (the voting results), and good TV. Take note that I'm not saying that votes don't count. I believe they do, especially in determining the top contestants. I am not saying the results are rigged, only that it's possible that they tweak some results to ensure good TV.
I'm lazy and I don't feel like it, so I won't get into how I came to this conclusion. But in my analysis, provided that Elliott survives this coming week (which is more likely than not), it could very well be a Taylor-Elliott finale. This scenario to me, would provide the most emotional, magical TV moment. The darkhorse getting this far, c'mon that's the best story there is right now. Not *yawn* an aforenamed TCO winning - it makes for a stale story, especially since that already happened last year (Cowell picked Carrie Underwood to win as early as the auditions round), and they have been building this season as the most unpredictable of all. Of course you can say I'm predicting a Taylor-Elliott finale because that's what I want. And you wouldn't be wrong. But it doesn't mean it can't happen. And it doesn't compel me to explain myself either, hee.
So let's go back to Elliott. As for the issue about his lack of stage presence. I offer no argument than this: Watch his performances from the start of Top 24 until Standards week, and tell me he hasn't improved. Anybody can see he's come such a long way. Remember that all the others in the Top 6 had been performing for years even before they auditioned for AI. In contrast, this guy has gone from nothing but karaoke bars in Richmond, Virginia to a show viewed by millions worldwide. Who would believe that not a long time ago Elliott was so shy he'd ask relatives and friends to turn off the lights when they asked him to sing? He has grown by leaps and bounds.
As to the argument that he has no personality. Well that's a really stupid thing to say because in the first place, hello, there's no such thing as a person with "no personality". Duh. I've got news for you: not only does Elliott have an endearing personality, he has character. Take note of his behavior, how he reacted under pressure (during the two times he hit the seal – when he stood there with Mandisa, and when they announced that he was again among the bottom 3 after Queen night), how he treats his fellow contestants, how he reacts to the judges when they comment on his performance. I'm not feeding you the data, you watch and observe, and tell me his mother wasn't right when she said that "he's such a good soul".
Lastly, in case you didn't know. Elliott has been battling with Type 1 diabetes since he was 17. And he is 90% deaf in his right ear. These are not reasons to pity him. Rather, these are reasons to admire him.
I've been checking some message boards in the internet, and I must say, if AI were held in the Philippines, Elliott would have been a frontrunner from Day 1. I'd like to think we Pinoys, being so used to having talented singers amongst us, know how to separate real talent from fluff. Fluff can be added later. Sheer talent has to be there to begin with.
So this is where I'm going: Since we Pinoy fans living here cannot vote, I am making a plea to Pinoy AI viewers in the US. Scratch that, make that a plea to Pinoy music lovers in the US: Please help get Elliott to the top. Philippines-based Pinoy fans, you've wondered how you can help him win. This is how. Make noise. Forward this to your friends and relatives if you like. Then ask them to vote. This coming week is a huge hurdle for Elliott. I am confident that if he gets through to Top 5, he'll be well on his way to a win.
I started this meaning to be brief but what the heck. Now excuse me while I pester my brother some more to make sure he TiVos the whole thing.
* I should give credit to verly, the person who thought of Elliott Yamin: Half-deaf and Still Better than You in the infamous TWoP forums' Name That Contestant thread. Click on that linkie and note how Elliott's is the most affectionate thread title, others are just plain snarky like TWoP itself. Note also how many pages there are in the Yamin thread compared to all others. People love talking about the guy -- and it's not all just snark.

-----------
Addendum

Here's where we get shallow. From the start, Elliott has been called all sorts of things, from hobbit to leprechaun to Narnia's Mr. Tumnus to monkey boy with jacked-up teeth to the face that only Stevie Wonder could love. People can get really nasty unfortunately. Lots had predicted that he would get booted off very early on. But look how far he's gone. Now his fans call him The Man, The Little Yamin Who Could, Funky White Boy, and the most endearing nickname of all, CinderElliott (or Cinderfella).

I don't know about you, but sometime between Stevie Wonder night and `50s night Elliott crossed over from "not much to look at" (my very words when I emailed a couple of friends about him) to adorable to downright sexy. I don't get why for some people his looks are still an issue (probably because they can't find anything else wrong with him). Open your eyes, for crying out loud, and look at how the stylists have worked their magic on him: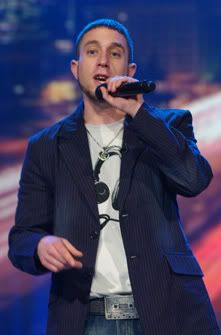 2.22.2006. If you really love me, won't you tell me? And if you really need me won't you tell me, then I don't have to be messing around.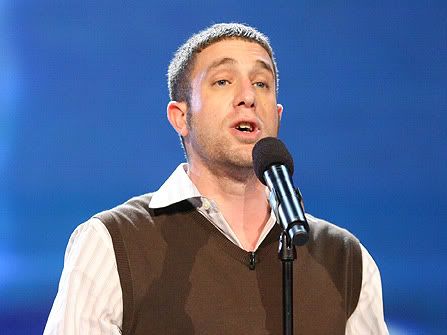 3.01.2006. There I go, there I go, there I go...Baby, you are the soul who snaps my control.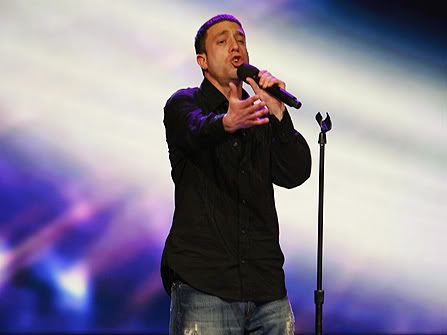 3.08.2006. Oh nothing can take me away from you...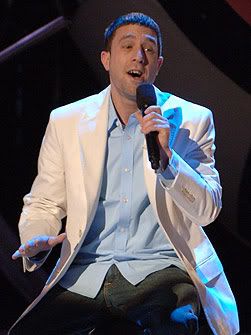 3.14.2006. There's something about your love that makes me weak and knocks me off my feet.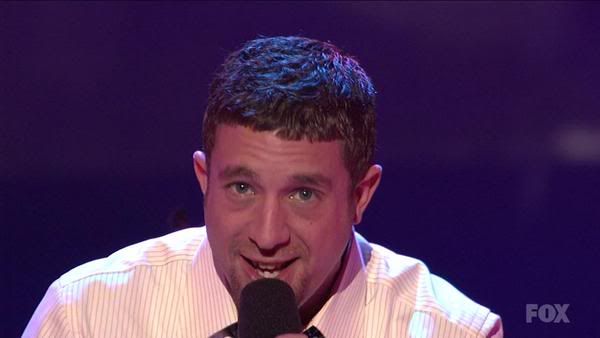 3.21.2006. Did you say I've got a lot of learn? Well don't think I'm trying not to learn.

3.28.2006. I don't want to be anything other than what I've been trying to be lately. I don't want to be anything other than me.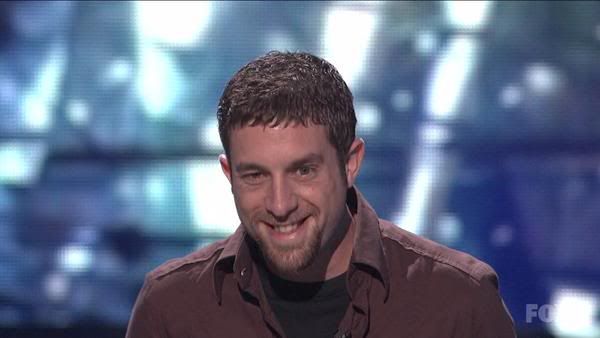 4.04.2006. If tomorrow never comes, will she know how much I love her?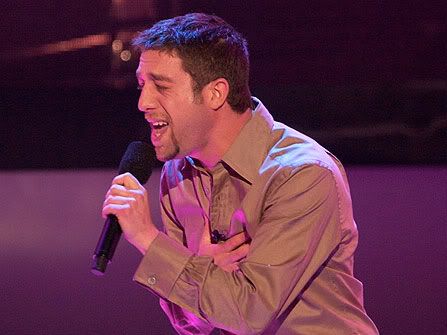 4.11.2006. Can anybody find me somebody to love?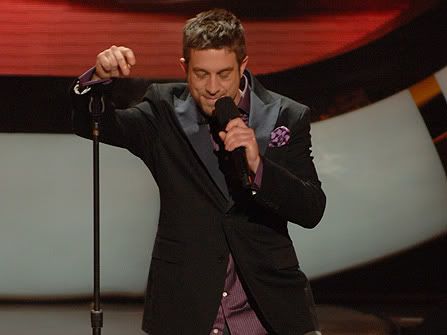 4.18.2006. With all your faults, I love you still. It had to be you, wonderful you, it had to be you.
Hnhh, say, ever heard of subliminal messages? ;-) Anyway, here's looking at you, people. Spread the word!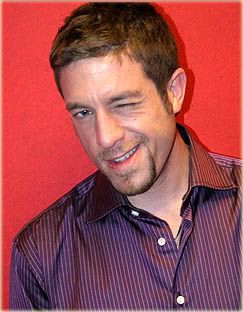 * Special thanks to Laclos of www.yaminions.com, Rickey of www.rickey.org, Jennifer of www.everythingelliott.com, and the TWoPers (no thanks to the doom-and-gloomers though).