Anything taking itself so seriously that it heaves under the weight of its own self-importance is
not
funny, and can be potentially boring. But something that revels in the glory of its own fakeness is not only funny, it's hilarious. (It's kinda like
Chicago
vs.
Moulin Rouge
.) And hilarious is what
Zsazsa Zaturnnah ze Musikal
is.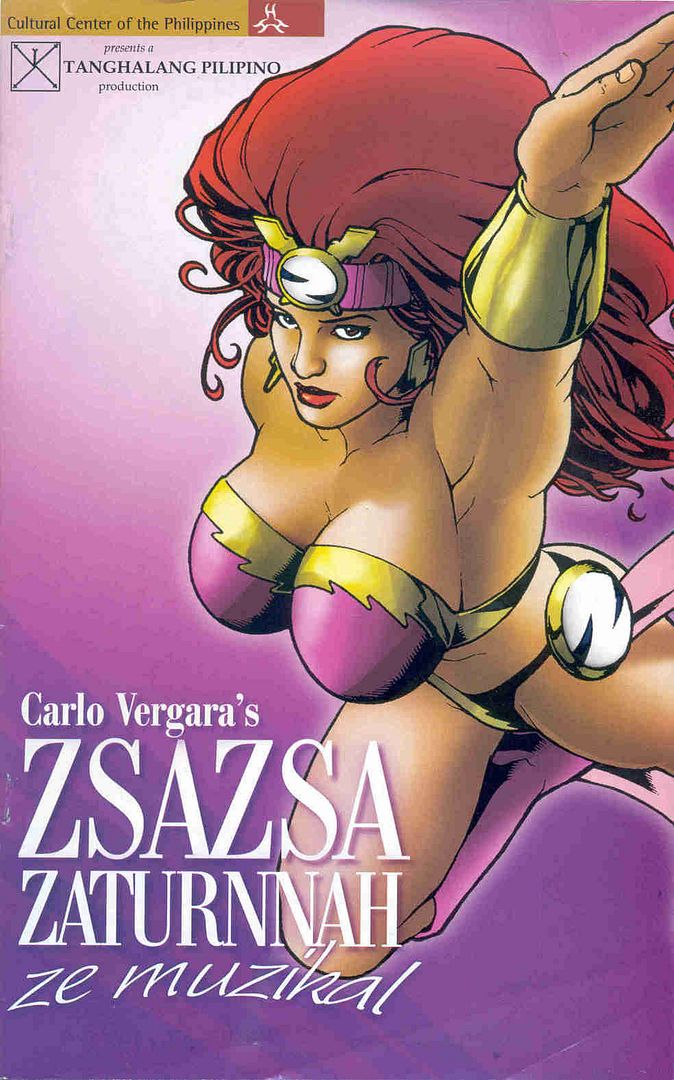 I had a rip roaring two and a half hour laugh-out-loud-athon last night at the CCP's Tanghalang Huseng Batute.
Zsazsa Zaturnnah
(hold your nose and say it people, "Zsuh zsuh Zaturn-na-ha!")
ze Muzikal
is an adaptation of Carlo Vergara's National Book Award-winning graphic novel,
Ang Kagila-gilalas na Pakikipagsapalaran ni Zsazsa Zaturnnah
. The story kicks off with Ada, a small town
parlorista
, finding a mysterious stone that fell from the sky while taking a shower. His spunky assistant, Didi, urges him to swallow it and shout "Zaaaaaaturnaaaah!!!" in the belief that it is a magic stone that will endow him with superpowers (sounds familiar?). Being the
uto-uto
that he is, Ada complies and is promptly transformed into an incredibly buxom red-haired warrior, a bona fide female equipped with super strength and agility. Zsazsa goes on to defend the town from a giant frog, a horde of spastic zombies, and a team of alien Amazonistas.
Who would have thought a comic book would translate so well into theater? Two aspects I liked best about the show: One, the excellent performances of the whole cast, led by Eula Valdes as Zsazsa (I hope no one was listening when I whispered to my companion, "Hey, she looks like Eula Valdes.", ehehe, kaya pala, it was Eula Valdes! I went in not knowing anything about the production aside from the title.). She had very strong stage presence, and mind you, it's not only because of the costume (sorry guys, I know what you're thinking, but she was wearing a body suit. Which was practical, with all the running around she had to do on stage.). I didn't realize until then that she could sing that well (si Kuya Germs kasi!), good for her! Tuxqs Rutaquio as Ada was vulnerable and naive, while Ricci Chan virtually stole the show with his feistiness and impressive lung power. Lauren Novero as Dodong, while he can use some more singing lessons, did have a rich, deep singing voice, and was quite charming (and yeah, as Didi pointed out, he did have nice noodles -- seems he was Mr. Body Shot 2001). Queen Femina was played wonderfully by Kalila Aguilos, flanked by her equally entertaining Amazonistas: Wilma Doesnt as Dina B. (I suspected it was Wilma, but didn't say it out loud; what she lacked in vocal power she made up for with sheer pizzazz), Deeda Barretto as Vilma S., Mayen Estañero as Sharon C., and Tess Jamias as Nora A..
Two, the delightfully ingenious special effects improvisations. (What's a superhero story without special effects, eh?) I don't want to spoil your fun by letting you in on all of it, but I must point out my most favorite one. During the confrontation scene between Queen Femina and Zaturnnah, both actresses wore fake legs (their real legs were covered by a black skirt above which the fake ones dangled). Assisted by meant-to-be-invisible-propspeople, this device allowed the audience to watch fabulously hilarious acrobatics and stunts. I don't know about the people downstairs, but the view from the Gallery (Batute's upper level) had us all in stitches.
There are two dramatic highpoints that I can't help mentioning. One has to do with Zsazsa talking to her long dead father (he turns out to be one of the zombies), the other is when Didi gets shot by Queen Femina. As it turns out, when he was alive, Ada's father could never accept how his son was a syoke (that's ancient swardspeak for bading, in case you're very young, or have otherwise been living under a rock). Ada now as Zsazsa, appeals to his senses, hoping his er her father (see it's kinda confusing) will finally be able to accept and love his son for what he (she?) is. Yeah right, talk sense to a zombie, why don't cha? Itay's reaction had me gasping for air. As for Didi, he almost stole the show with his faux death scene (oops sorry for letting that out, but c'mon you'll know where everything is going anyway while watching it). Wait a minute, let me rephrase that. He did steal the show. Ah, scenes like these, I just love it when they have you in tears and move you ever so subtly at the same time. As the gay would say, Nakakaloka! I hesitate to say more lest I spill all the beans in this fantastically executed production. Not at all a bad way of saying gender is an illusion. (O ha, you see, you can still use your brain and come away gigglish for the whole night, too!)
Considering how much I enjoyed the show, I gladly would have paid twice the price of the ticket (that is, if I did actually pay for my ticket, ehehe.
*grin*

Thanks for the libre, M!
) So if I were you, I'd go catch it while it's still playing, as there are only a few playdates left: Feb. 24-25 (8pm); Feb. 25-26 (3pm); Mar. 3-4 (8pm); and Mar. 4-5 (3pm). Check
www.culturalcenter.gov.ph
for their contact numbers. Grab a copy of the programme, too, it's delightfully designed, and even has
An Idiota's Guide to "Camp"
. ;)
One final note, though. To the parents: better not bring the kids (under 13 I suppose?) to this one. It's not exactly Darna. *cough*

Zsazsa Zaturnnah ze Muzikal is directed by Chris Millado and adapted by Chris Martinez. Vincent A. De Jesus is the composer, lyricist, and musical director.