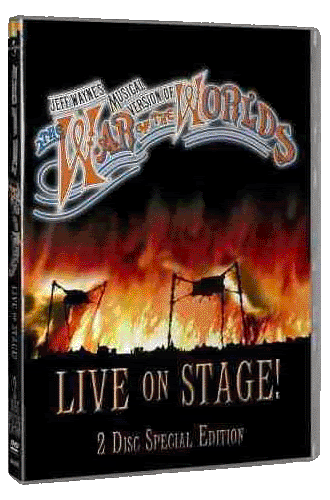 Back in January I wrote about the staging of Jeff Wayne's War of the Worlds Musical in the U.K. (My blog accounts are
here
, should you like some background info.). The sold-out tour was completed in April to very appreciative audiences (as far as I can tell from the reviews in the web). And while I wasn't looking (that is to say, in November), the dvd was released. I want THIS.
But woe, it's only available in Amazon UK. (No, I don't think I'll find it in uhm ah you-know-where.

*wiggles eyebrows*

)
So the other day I began searching all over the web (not really all over, just the usual places I go to find stuff, which, might I note, rarely fail me) for mp3s and videos of the live show, but nary a one was to be found. Until today, hwah!

I love you youtube, and I love you generous fans who share videos with those of us who for some reason or other have missed stuff we like. (My most effusive thank you to TrockRon of youtube, hey!)

I've seen only a few of the videos I list here, so I'll comment only on those details that I saw. There is a screen on stage where the audience watch a continuous series of images which complement the story that unfolds in front of them with the use of a live orchestra and band. Singers are clad in period costume, and they not only sing but act out their parts. As I mentioned last time, the production planned to resurrect Richard Burton. Or more aptly, Richard Burton's head. He is right there, floating, narrating. And he looks creepy. Apparently they took an image of a young Richard Burton and then superimposed it on a look-alike actor who lipsynched the narration. Consequently, the movement is mostly in the mouth. The eyebrows do go up and down from time to time, and the eyes blink. This image was projected onto a huge plaster head on stage, but the face looks flat. So you get strange. And then again I'm seeing this only on video. Perhaps it looked better live. I wonder how those unfamiliar with the musical reacted to the floating re-animated Burton head with the wiggling eyebrows? I read that they also went ahead with their plan of having a life-size tripod on stage hovering above the actors. I haven't seen the video yet where this appears.

One of the things I had been looking forward to was Russell Watson's performance. Russell the opera singer (actually he's more of a crossover artist), with no theater training whatsoever, took on the role of the famed madman, Parson Nathaniel. Having watched Spirit of Man on youtube, I can see why some were less than happy about him bringing his operatic singing style to the role (I should also report that most reviews I've read declared his performance as "stunning", "excellent", and "outstanding".). Spirit of Man is, after all, one of the rocking-est songs in the musical, and fans are bound to have heard the passionate version of Philip Lynott a hundred times over. You know how some fans tend to be, nothing can be better than the original. Perhaps Russell's tenor didn't quite ring mad enough for some audience members. Notice for instance, the sustained last note in "When the demons arrive the survivors will envy the deaaaaaad". Wooah I'm sure that sounded great live and I might have been compelled to stand up and applaud, except that the number would have barely reached the middle by then and it wasn't meant to be an aria, yah? In any case, I like Russell's voice so I'm sure I'll like his version better as I listen to it more and more.

As for the acting, it can still be improved, but it wasn't bad. And to think of what he was going through then! You see, I just recently found out that Russell had been suffering from migraines during the WOTW tour, pains which later progressed to excruciating headaches and impaired vision while recording his new album Love Affair in Los Angeles. Russell was then diagnosed with a brain tumor and had to undergo surgery sometime in September. He's now reportedly recovering well, and is set to defend his title in the UK tv reality show Just the Two of Us (a celebrity duets challenge; funny how they should have a whole show about something we regularly see on Philippine tv, eh? You know, celebrities who dare to pretend they can sing, and do so with real singers.). Btw, before I move on, Rusell's makeup in the youtube vid looks awful, what the frack, does a madman have to look like that? *posts nice picture of Russell to erase bad make-up from memory*


Ok I've babbled long enough. Here are the wondrous, fabulous youtube WOTW linkies!
Credits & Prologue (something that isn't found in the Jeff Wayne WOTW), where the Martians plan their attack on Earth. I'm not sure if this scene connects with something else in the production (have not seen the whole thing yet), but for me, the original intro was good enough to start the story. The creepy floating head of Richard Burton is visible already, at the left side of the stage, albeit in shadow. I'm no expert, but the CGI reminds me of video games from several years back.

Part 1 (The well-loved Eve of the War. If you can listen to only one track right now, this is it, this defines the musical WOTW. The creepy floating head starts to talk here.)
Part 4 (Justin Hayward sings Forever Autumn. Sublime!)
Part 5 (Thunder Child ought to be in here.)
Part 6 (Parson Nathaniel makes his entrance at around 7"; Spirit of Man starts here.)
Part 7 (Spirit of Man continues here)