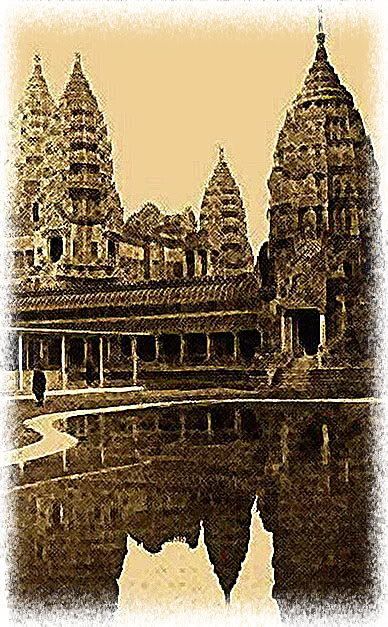 If we are always arriving and departing, it is also true that we are eternally anchored. One's destination is never a place but rather a new way of looking at things.
Yeah, you read that right. Angkor. "Angkor what?", you say? Exactly, Angkor Wat. You know, the UNESCO world heritage site, Hindu & Buddhist temple ruins, one of the wonders of the world, site of some of the most magnificent man-made monuments on this planet. Huh, still asking "Angkor what?"? *sigh* Eh, haller, try to remember Tomb Raider movie # 1 then, that might ring a bell.
I had always wanted to go see the Angkor temples. You see, I have a thing for ruins and other vestiges of the ancient world. In any case, when my friend Cho and I heard about discounted Bangkok flights a couple of months back, my first thought was setting foot at last on Cambodia, that land of the Khmer that is associated with Pol Pot's killing fields as much as it is with the magnificent sandstone monuments built in the heyday of Khmerian god-kings.
The route we picked (the overland Bangkok-Aranyaprathet-Border -Poipet-Siem Reap route) involves what by most accounts in the web, is popularly known as the bus ride to hell. At first I was unfazed. Surely it can't be worse than the transportation system here, huh? For instance, I have taken the Baguio-Sagada bus ride that yes, is breathtakingly scenic and all that, but one that goes on forever and ever and ever, with toilet stops that make French tourists virtually cry while taking a pee in holes on concrete floors, or bumpy jeepney rides aggravated by worries about being ambushed by highway robbers in Kalinga (or is it Abra, I forget) and insensitive bus conductors and passengers who sing the karaoke (and very badly) on an hours-long trip where you'd rather sleep since there isn't much to see anyway as you traverse the arid Aurora plains. And oh, let's not forget my most hated bus trip of all: 10-hour Tuguegarao-Manila day trips. Arggh, boredom that stretches out to 10 hours, and that involves sun (being in an air-conditioned bus makes no difference to me)! Now that's the pits. So going back to Cambodia. I was thinking: hmm, two four-hour bus rides across two foreign countries, with an interesting border crossing in between, how hard can it be? Might turn out to be a piece of cake, yeah?
Well, my research tells me the answer is No. Interesting yes, but hardly a piece of cake. For starters, take a gander at
the picture here
and
here
. Hwaah! Now I'm daunted. Once at Aranyaprathet, one is supposed to pass through Immigration, in itself proven to be an event-filled chore particularly for those who have to get a visa (thank goodness we Pinoys don't have to because we're part of ASEAN), then take a short tuktuk ride to get to the Cambodian side. Poipet is said to be a hellhole (other travelers' words, not mine) filled with thieves and scammers. The detailed description and travelers' accounts in talesofasia.com, lonelyplanet.com, and travelblogs.com make me think of Poipet as an exaggerated version of Quiapo or Cubao or Baclaran, but what do I know? The main thing to remember, they say, is not to spend more time in Poipet than you have to. Alright then, I guess I won't be setting my tripod there. I haven't even talked about the other bus ride yet. The Poipet-Siem Reap bus trip has been described as a total nightmare. Apart from the shitty road condition (there's a rumour that a Thai airline company has been paying off Cambodian officials so that they won't fix the roads thereby ensuring said Thai airline's monopoly; not too farfetched, imo, if you check out how much the airline is charging for a crummy 45-minute flight), let's see, there's the "official" (government-run) bus which can take a good while as it is alas-puno, as we say in the vernacular. Alas-puno essentially means the bus will leave when it is full. Who knows how long that will take, huh? The alternative, the tourist bus is even worse. That is why this is called the scam bus. Unfortunate suckers who go for the dirt-cheap Bangkok-Siem Reap package commonly sold in Khao San Road have reportedly suffered through 10 hour or longer trips punctuated by interminable stop-overs, flat tires and all kinds of vehicular problems, only to find themselves magically booked in one of the bus company's partner hostels and guesthouses. By "magically" I don't mean they can Houdini themselves out of the uh arrangement. What a frack of an obstacle course to get to Siem Reap, huh? Fortunately, there's a 3rd alternative: taking a taxi. So to hell with buses.
All of this will take anywhere from 6 to 8 or 9 hours of travel, assuming one doesn't take the scam buses, as those can take forever. If one is clueless and is the type who sticks out like a dolled-up socialite standing amidst the human traffic in Villalobos Street on a Friday afternoon, then well, yeah, one might want to think twice about taking this route. But us? Nah, we're not afraid, are we? What else is there to be afraid of? Swarms of locals selling their wares? Missing the sunrise and sunset hours? Viewing sunrise and sunset at popular Angkorian spots while rubbing elbows with thousands of tourists? Cameras running out of batteries? Running out of memory cards? Getting a guide who annoyingly commands you to "quick, take picture here!"? Accidentally falling into Tonle Sap? Climbing up Angkor Wat's steep stairs (70 degrees baby!) under an unforgiving sun? Yeah those are daunting. But land mines? Terrifying.
ETA. Sssh don't mention land mines to my mom. Or Poipet.