Last week on the LRT Line 2 I was pleasantly surprised to find poetry on the train. There were posters inside the train with pretty pictures and layouts of texts in Spanish and Filipino. I instantly thought that it must be a project of
Instituto Cervantes
, one of the most active cultural institutions here in Manila. So I stepped closer and found it was indeed their project. I had a backpack with a laptop strapped to me and only a very short ride, so I messed up the pic. Just tonight I attempted another shot, and again I had a backpack and a quick ride, so this is still blurry but it will have to do (clickie for larger image):
The text reads
Oh Maynila, sa talulot
ng mahinhing liryo isinilang!
mabunying prinsesang nahihimlay
sa bula ng karagatan!
Oh Manila, en la corola
de un casto lirio nacida!
gentil princesa dormida
sobre la espuma del mar!
A Manila
Pacifico Victoriano
According to the
Inquirer
, Berso sa Metro is a campaign aimed at promoting reading among Filipino commuters and strengthening Filipino-Spanish ties. The works of Filipino (Jose Rizal, Jesús Balmori, Claro M. Recto, José Palma, Evangelina Guerrero, Pacifico Victoriano and Fernando Maria Guerrero), Spanish (Calderón de la Barca, Lope de Vega, García Lorca, Antonio Machado, Luis Cernuda, Luis Rosales, Miguel Hernández and Gil de Biedma) and Latin American poets (Pablo Neruda and César Vallejo) have been selected for us to enjoy. The campaign is planned to run for three months but may be extended depending on the public's response. A quick blogsearch tells me there are people taking notice of (and pleasure from) Berso sa Metro:
I Heart Manila
Let a hundred flowers bloom
Digital Buryong
...and then some
sealed with a kiss
Palaboy
pattypot
Loving Multiply, Multiplying Love

The Coolness that was...
Another poem I spotted was Pablo Neruda's
Tu Risa
. I messed up the pic (wide shot while sitting, sorry, my aching back!)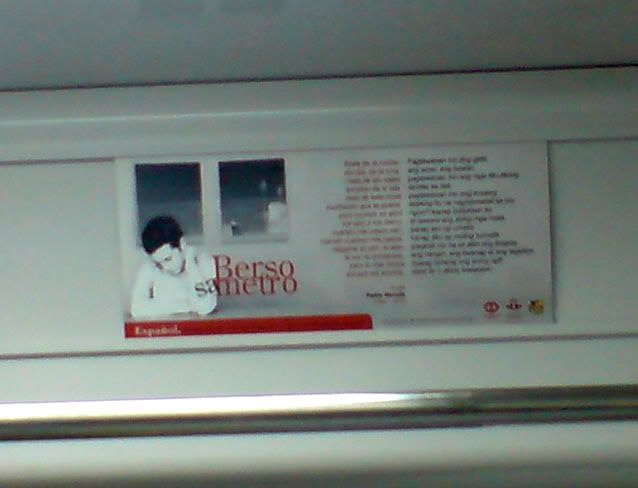 but here's the text:
Ríete de la noche,
del día, de la luna,
ríete de las calles
torcidas de la isla,
ríete de este torpe
muchacho que te quiere,
pero cuando yo abro
los ojos y los cierro,
cuando mis pasos van,
cuando vuelven mis pasos,
niégame el pan, el aire,
la luz, la primavera
pero tu risa nunca
porque me moriría.
Pagtawanan mo ang gabi,
ang araw, ang buwan
Pagtawanan mo ang liku-likong
landas sa isla,
Pagtawanan mo ang torpeng
lalaking ito na nagmamahal sa iyo,
Ngunit kapag bubuksan ko
at isasara ang aking mga mata,
Kapag ako ay umalis,
kapag ako ay muling bumalik
Ipagkait mo na sa akin ang tinapay,
ang hangin, ang liwanag at ang tagsibol,
Huwag lamang ang iyong ngiti
Dahil ito'y aking ikasasawi
(They should have acknowledged the translator of all the poems they used. Or perhaps it was indicated in small print, I just didn't see it?)
Now if only they take this bright idea and start posting more of Philippine art and literature. Say, post comic strips in series. Or Philippine art - photographs of paintings, sculptures, and so on. Illustrations from children's books. They can even serialize these, make it a game or puzzle for children and adults alike. Wouldn't that be a treat?