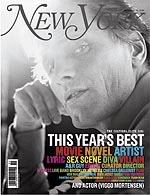 Right. Uh huh, uh huh. I know, I know, some of you have been wondering, just when will this blog degenerate into shameless fangirlish raving? *cough* Well, begging your pardon, at least this is the New York Magazine, `yah? *cough*
Clickie here
and check out the year's best in movies, tv, books, theater, etc. and ooh lookit that huh, who's on top of the New Yorkers of the Year/Cultural Elite of 2005? The
cultural elite
is said to be
"a Pan-cultural list of awards celebrating the best of the arts this year... the actors and architects and bands and directors and writers and gallerists and painters and producers who've shone brightest in the city's artistic firmament in 2005... who may show the culture the way in the future. "

I wouldn't go so far as to say that
A History of Violence
is the best movie of the year (am a sucker for fantasy epics for one thing, but no, I'm not suggesting
Harry Potter & The Goblet of Fire
is this year's best, and I haven't seen
Memoirs of a Geisha
, which i hear, sadly, is one of
the most disappointing
, we shall see), but Cronenberg as best director, yeah, and Viggo as best actor, heck yeah!
Speaking of lists, what's with People magazine? How on earth can you publish this picture and list him as #4 sexiest man alive? #4??? Baah, humbug!
*ahem* Right. Looney imogen out.