Check it out, Creative's newest media player: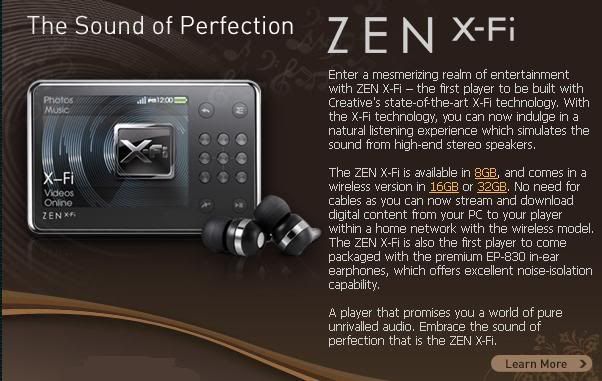 The Zen X-Fi. Really noice and sleek and spiffy. No, it's not quite like the iPod Touch, but what do I care, I'm not an iPod'er. I don't care about the status symbol, but functionality. Creative gives me more value for my money. And it actually sounds better. A fellow poster at pinoyexchange.com compares Creative players and iPods like so: The former have a warm, clear sound, while the latter have sharp, tinny sound. Warm and clear is exactly how I like my music. And with the X-Fi Crystalizer turned on? It becomes even crisper and richer. Aah heaven! (Don't think for a second that I can actually grasp what an X-Fi Crystalizer is, I'm just taking
this reviewer's
word.) There are other features that come with this model but they aren't that much of an advancement over the current Zen. The wireless feature actually only means you can access the music in your computer without having to use a cable. Duh, it's not internet-capable.
I don't know why I'm even talking about this though. I just got me a Zen Vision W a month ago. And I had resisted buying it since it came out what, 2 or 3 years ago! Sheesh. I'm enjoying it, check out the large screen: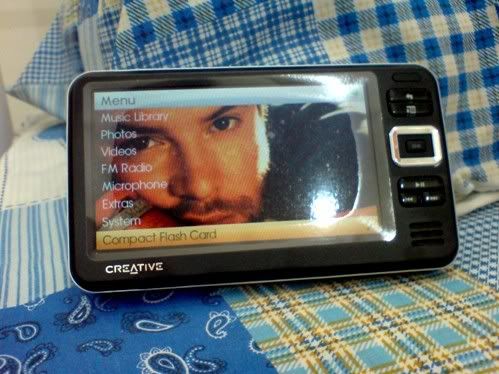 And whee, with Media Monkey I can even load album art. Sweet!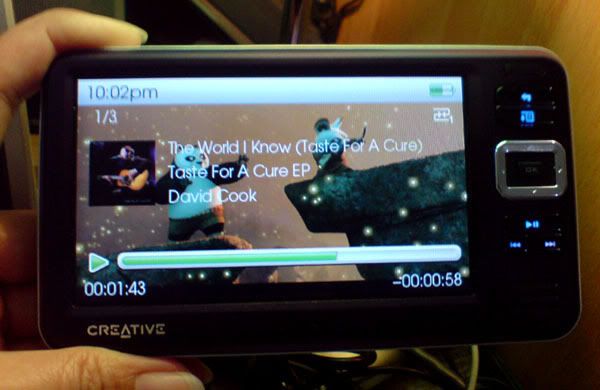 Plus, I can even load the contents of my compact flash card onto it, very nifty when travelling. And because it's a hard disk drive, I can also load data into it like a portable drive. In any case, they still have to work out some kinks with the X-Fi. In a year or two perhaps, it will be much much better.
My other Zen
's still working anyhow.
*justifies to self*